It's no secret that technology has drastically changed the way we shop. From the early days of catalogs to today's endless online choices, shoppers have evolved right along with technology. Retailers and e-retailers alike are constantly searching for new ways to engage customers and keep up with the competition. And now, augmented reality (AR), is changing the way we shop. With an estimated AR market reach of $198 billion by 2025, retailers can't afford to not be tapping into this innovative form of marketing. So, what is augmented reality and how can you use it to enhance your shoppers' experience? In this blog post, we'll explore everything you need to know about AR and how you can implement it into your shopping journey. Stay tuned!
How Does Augmented Reality Work?
AR integrates features such as the virtual try on and "try before you buy" capabilities essential for allowing customers to shop exactly for what they need with minimal returns. For example, the IKEA app is an immersive tool that allows you to place the furniture in your house. A customer can use their phone to scan the floor area for a few seconds. Then zoom or pinch the piece of furniture to your preferred scale and drop it into the position of the room you want. Augmented Reality has become an extremely crucial element that can help you make a purchase decision faster and more accurately.

Customers can experience Augmented Reality on devices like TVs, laptops and PCs, handheld devices (tablets and smartphones), digital mirrors, wearables, and head-mounted displays. With mobile devices, AR leverages the device's computer vision technology, compass, GPS, and camera to collect information about the real-world environment. Then, it overlays additional contextual information (in 2D or 3D) on top of that environment image.
Benefits of AR Technology
It Boosts Sales Volumes
AR technology allows customers to virtually try-on items before they purchase. They can view how the clothing fits them or how new furniture will look in their home or office environment. AR helps reduce the purchase journey and increases sales conversions.
It Minimizes Product Returns Significantly
With the ability to 'try-before you buy,' AR reduces the chances that customers will get disappointed, by choosing the most suitable product.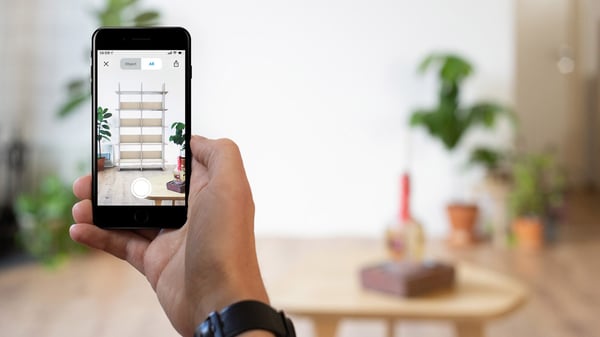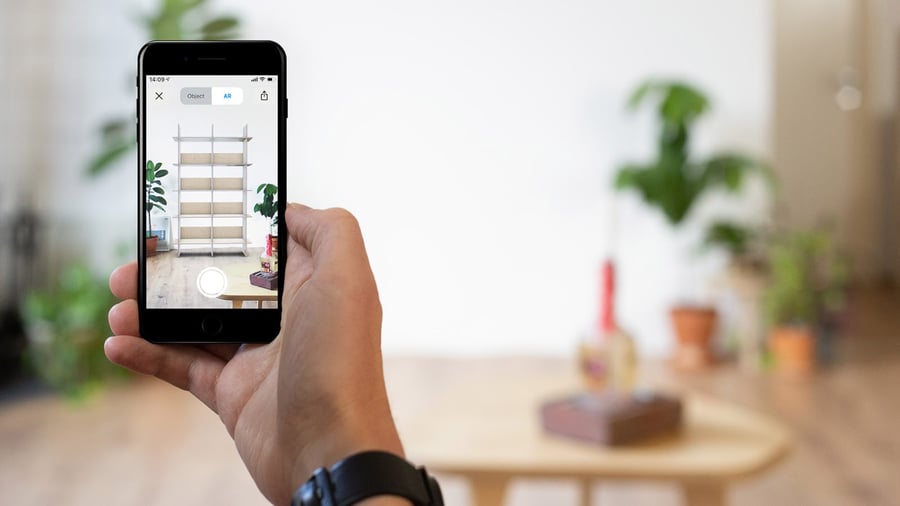 It Increases Customer Engagement Massively
Augmented Reality sparks customers' interest in products and provides all the extra product details they might need. Engaged customers tend to return and shop for more products because of the experience.
It Collects Data on Customer Preferences
The information about the products customers choose to try through AR-enhanced shopping speaks volumes about their interests, preferences, and shopping behavior patterns. Retailers can leverage these insights to offer personalized marketing and advertising campaigns.
It's a Safe Hygienic Contactless Experience
Today, AR is crucial for retail services because it helps to eliminate concerns about hygiene and contamination risks.
It Reduces Expenses Incurred in Paying Staff
Augmented Reality helps retailers enjoy more efficient store navigation, which reduces the need for human shop assistants to a minimum.
It Builds Greater Customer Loyalty
A better customer experience contributes to higher customer loyalty and helps audiences build stronger relationships with their favorite brands.
Use Cases for AR In Shopping
There are two distinct approaches for implementing AR technology in the retail industry, i.e., in-store and out-of-store. These approaches require a customer to be in or outside the store. Here are current uses of AR used in different industries.
1) Virtual Tours and Space Visualization.
AR technology allows customers to walk virtually through a property or store before visiting the location.
For example, AR retail apps such as Magic plan provide customers with an AR-enabled residential property design planner. After all renovations, they can view what their homes will look like. Shoppers can virtually walk through their new homes and assess what materials they need for renovations.
2) Color Matching Capabilities.
Augmented reality shopping apps provide the opportunity for a virtual try-on. Here, a customer can decide what colors are most suitable to create an optimal palette for an outfit or a room. For example, the Dulux Visualizer app lets customers select a new wall color for their home.
3) Outfit Visualization Capabilities.
AR minimizes the pain of shopping for apparel because customers can envision how these clothes will look in real life! For example, the ASOS Virtual Catwalk app offers an amazing virtual try-on experience. It allows shoppers to view different pieces and look at models with varying body shapes and sizes and shapes.
4) AR Fitting Rooms (In-Store Experience)
With Augmented Reality integrated into retail, customers do not need to physically try on glasses to see if they fit. A good example is the Fittingbox Virtual Try-On Standard for stores solution. The solution leverages a "virtual try-on" Augmented Reality technology in their fitting rooms that detects users' facial features instantly. It also adapts to automatic movements and in under 400 milliseconds, it fits the frames on the user's face. Clients can try on the lens simulator and explore the diverse collection of glasses while others are being served at the store. The AR fitting room provides an amazing "try before you buy" experience that guarantees high customer satisfaction and makes the purchase journey of patients much smoother and more fulfilling.

5) AR-Enabled Try-On (Virtual Try-On).
Customers can now us AR apps to try on products without going to a store in-person. With Fittingbox, patients get a virtual try-on experience to enable them to get the perfect frames. For example, the Fittingbox Virtual Try-on Standard for Website solution lets patients browse frame catalogs and try on the thousands of products available. The experience makes the client feel like they are standing in front of a real mirror, yet they are merely using a website. Another great product is the "Fittingbox Virtual Try-on Advanced for Website," which essentially transforms an e-commerce website into a virtual mirror where clients can virtually try on and see how glasses fit on their faces before they buy. This experience guarantees clients choose glasses they love with have a "real size fitting."
6) Large Product Shopping.
The AR shopping apps make the purchase journey associated with large products easier. A good example is the AR experience that BMW gives car buyers. It provides its customers with AR apps to allow them to explore different car models, take snapshots of the vehicles they want to buy, and configure their vehicle's parts.
Final Take Away
Augmented Reality has been a game-changer in customer's purchase journey! Many brands leverage AR to improve their customers' shopping experience, increase sales, engagement, and establish loyalty. The benefits do not stop there! AR also improves the overall shopping experience by helping customers visualize and test the products they wish to buy, thus guaranteeing high customer satisfaction.